Contact: John Emmanuel

Monday, August 04, 2003 - As St. Lucian parliamentarians prepare to wrap up a two-day national workshop on the Multilateral Trading Systems and Doha Development Agenda on Tuesday, August 5, 2003, Prime Minister Honourable Dr. Kenny Anthony has been talking tough about the operations of the workshop's main organizer – the World Trade Organization (WTO).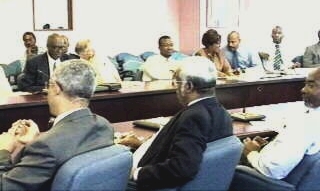 Cross section of participants at the WTO/Ministry of External Affairs workshop for Parliamentarians
The meeting, taking place at the National Insurance Corporation (NIC) Conference Centre on the Waterfront in downtown Castries, is aimed at bringing key decision makers up to date on significant global trade issues. Organized in conjunction with the Ministry of External Affairs, International Trade and Civil Aviation, it represents the second of its kind to be convened by the WTO, the first having been held in Cape Town, South Africa.

Addressing participants at Monday's opening, Dr. Anthony stated that St. Lucia is a victim of the multilateral trading system administered by the WTO. He pointed to the damaging impact of the WTO's decision in favour of the USA, as it pertained to the preferential arrangements for the export of bananas, which St Lucia and other Small Island Developing States (SIDS) had previously enjoyed with the EU. Such a decision Dr. Anthony stated, has contributed to crippling the local industry and that of the Windward Islands.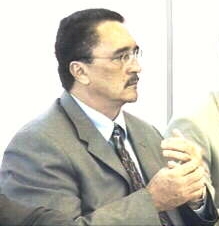 "I merely wish to say that I am far from sanguine about the WTO. Its fundamental principles and accompanying practices rarely impact in benign manner on small and weak trading nations," said Dr. Anthony. While the WTO was always meant to be a truly global institution, he observed that to really enjoy this status, it is not enough that it opens its doors to membership by all countries.

"While the numerical size of membership is important, greater importance should be placed on the quality of that membership. What is essential is the right and the ability of all members to participate meaningfully in an institution whose business is to secure benefits for all, and I would assume that that includes the disadvantaged," he argued. Dr. Anthony indicated that given that the WTO was here to stay, parliamentarians who represented one of the highest decision making groups in the country, needed to familiarise themselves with its provisions.

The true challenge for small developing states the Prime Minister explained, was to secure changes to the rules in order to make them more sensitive to the needs of island states. On that front he noted that small countries had not really participated meaningfully in the multilateral trade negotiations and have had no real influence on the outcome.

The workshop is also being attended by several senior representatives of key private sectors entities on the island.