Contact: Primus Hutchinson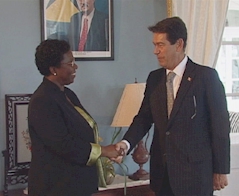 Saint Lucia's Governor General, Dame Pearlette Louisy (l) and Peru's Ambassador to Saint Lucia, His Excellency Huberto Urteaga (r)
Tuesday, March 11, 2003 - The two countries of Peru and Saint Lucia are working towards establishing similar political and economic goals. That announcement came from Peru's Ambassador-designate to Saint Lucia, His Excellency Huberto Urteaga, during a brief ceremony at Government House Tuesday for the presentation of his credentials to Governor General, Dame Pearlette Louisy.

Mr. Urteaga indicated that the two countries have also collaborated in the fight against international crime, drug trafficking and diseases. He emphasised the need for greater effort to be applied in the field of economics, since both countries have identified the importance of establishing bilateral trade.

According to Mr. Urteaga, supplying large markets in the developed world can be difficult and challenging for small states due to industrial volume. However he indicated that niches of similar products for consumption can be a source of trade to benefit exporters of both countries, without having to deal with expensive brokers form developed countries.

Saint Lucia's Governor General, Dame Pearlette Louisy, says it will serve both countries well to work on strengthening arrangements and structures that would facilitate closer ties and bilateral initiatives. The Governor General also added that she anticipates that both countries can reach an agreement on channels of communication between their exporters and importers, thereby resulting in flourishing trade.

"I therefore welcome your suggestions as to the way forward in opening our markets to the exporters and importers of our two countries. Size and industrial volume are always key factors in sustaining a balance of trade, and in the case of small countries like Saint Lucia, the challenges are many, and the solutions sometimes few. I am pleased therefore that you can offer a way to deal with this inherent imbalance in out trade relations," Dame Pearlette said.

Saint Lucia and Peru established diplomatic relations some eighteen years ago.