Contact: Raymond O'Keiffe
Castries, March 11, 2003 - Units in the OECS Secretariat have formed two committees to facilitate the implementation of a harmonized Records Management programme.

There is a committee comprising Heads of Units of the Secretariat, which will operate at the policy level and a committee comprising staff members who actually handle the records and will function at the Operational level particularly in the implementation of Registry procedures.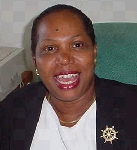 Naula Williams, Head of the OECS Information Services Unit
The formation of the two committees follows a recent workshop on harmonized records management in the OECS Secretariat.

Head of the OECS Information Services Unit, Naula Williams states that participants were able to explore approaches to enhance the documentation, security storage and retrieval of information to decision makers.

Williams agrees that an improved records management programme will enhance the capacity of the Secretariat to deliver information that could influence development in the sub region. The OECS Secretariat currently has 8 units and two overseas missions.