Contact: Rose Marie Harris

Monday, July 14, 2003 - The National Television Network NTN has received a boost in its programming, thanks to the Government of the Peoples Republic of China. The Chinese government on Monday July 14, 2003 officially presented a Satellite Dish and receiver to the Department of Information Services which according to the Chinese Ambassador Gu Huaming, is one way in which the cultural exchanges and cooperation between China and Saint Lucia could be further promoted.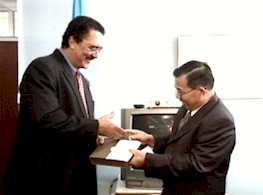 Ambassador Gu Huaming makes presentation to Prime Minister Dr. Kenny Anthony
"The aforementioned equipment will not only enable the National Television Network to provide more programme options to its audience, but will also furnish the Saint Lucia people will a better understanding of China as well as Asia. The National Television Network is encouraged to do more up-to-date coverage on China's latest economic achievement and cultural development by using these equipment which would surely open a window on China to our friends in Saint Lucia and subsequently contribute to the consolidation of the friendship enjoyed by our two peoples."

Prime Minister Honourable Dr. Kenny Anthony explained that the equipment will facilitate the receipt of information from sports to culture, and general information from the People's Republic of China and Asia.

"It comprises a satellite dish and receiver. At present we receive approximately fifteen channels from Asia and this includes the English language Chinese station CCTV9. The dish is mounted on this building, the Greaham Louisy Administrative Building and the receiver is placed at the studios of the Government Information Service. This equipment was secured after negotiations with the Department of Information Services and the Embassy of the People's Republic of China."

The new equipment according to Dr. Anthony will certainly widen the public's horizons and most important of all deepen the friendship shared between Saint Lucia and the People's Republic of China over the years and anchor that friendship even more fundamentally.