Contact: John Emmanuel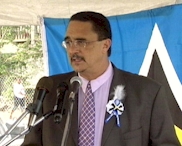 Prime Minister Hon. Dr. Kenny Anthony addressing the gathering
Tuesday, June 03, 2003 - Prime Minister and Minister for Finance Honourable Dr. Kenny Anthony has described the multi-million dollar improvements to the fish landing facilities in Choiseul and Soufriere, commissioned last week as powerful testimony to government's commitment to the development of the fisheries sector on the island.

Dr. Anthony said the improved facilities, financed by the Japanese Government in excess of US$13 million, also represented his government's determination at enhancing the socio-economic conditions of residents on the West Coast. In the words of Dr. Anthony, "our government has appreciated that we need to cast our gaze and our nets past the near shore horizon if we are to continue to experience growth in the fisheries sector." Dr. Anthony told his audience made up of dozens of fishers from Soufriere and surrounding areas that the island's near shore resources were being exploited at levels that were not sustainable and it was imperative that infrastructure be developed while utilizing technologies that would allow the deep ocean resources to be harvested.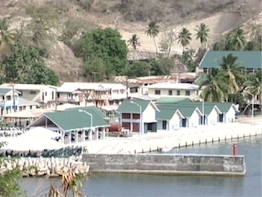 Choiseul Fisheries Complex
The upgraded facilities in Choiseul and Soufriere will complement existing modern facilities in Castries, Dennery and Vieux Fort. Soufriere has a registered fisher population of 154 operating out of 136 boats. Member of Parliament for the area Honourable Walter Francois, although pleased with the steady increase, would like to see a better trained and younger crop of fishers emerging in the near future. Said Mr. Francois, "to optimize this facility we require the training of our fishermen in the new approaches to fishing. The figures indicate that there exist in the region of 160 fishermen with an average age of 38 years in Soufriere and of these 34% go out to sea on a regular basis. Hence we desperately need a group of young persons to be recruited and trained so that they can become better fishermen in order to maximize the use of this facility."

The other major issue facing the western town is that of ownership of the US$5 million facility, which includes an administrative building, an ice making plant, fuel station and a new fish market. All stakeholders are being asked to play their part in that regard. The Soufriere Marine Management Area along with the Fishermen's Cooperative are expected to play central roles in the management of the facility.