Contact: Primus Hutchinson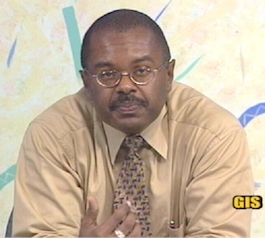 Cabinet Secretary, Dr. James Fletcher
Tuesday, June 17, 2003 - The very first press briefing to provide an insight into the decisions taken by Cabinet, after its weekly meeting on Mondays, took place at the Government Information Service's conference room on Tuesday June 17, 2003, as had been previously announced by the Cabinet Secretary, Dr. James Fletcher.

The briefing, chaired by Dr. Fletcher, is also intended to provide journalists with an opportunity to question the Cabinet Secretary, on any of the issues and decisions that have been the subject of discussions, at the level of the Cabinet of Ministers during weekly sessions. At the first briefing, Dr. Fletcher gave a brief account of the process by which Cabinet operates.

The Cabinet Secretary stated that the Cabinet of Ministers is collectively responsible to Parliament, for any advice given to the Governor General. According to Dr. Fletcher, once a decision by the Cabinet of Ministers is confirmed, it is recorded as one agreed by all.

"So you will not find an instance where Cabinet makes a decision but it is recorded that there is a dissenting voice, it's a decision of Cabinet and that's precisely what it is. There is collective responsibility for that decision," Dr. Fletcher said.

A recent decision taking by Cabinet dealt with the future status of the Mabouya Valley Development Project - a banana belt situated in the northern end of the Dennery community.

"That was due to the level of apprehension and lack of clarity surrounding the status of land ownership in the Mabouya Valley," Dr. Fletcher said.

Based on a memorandum submitted by the Minister of Agriculture, Forestry and Fisheries, Cabinet directed the Attorney General's Chambers to draft legislation for the establishment of a Mabouya Development Corporation. According to Dr. Fletcher, Cabinet also agreed to the formation of a sub-committee, comprising the Prime Minister, and the Ministers for Agriculture, Health, Physical Development, Environment and Housing, and Social Transformation that will make recommendations to guide the Attorney General's Chambers in drafting the relevant legislation.

The Mabouya Development Project ended on March 31st 2003.