Contact: John Emmanuel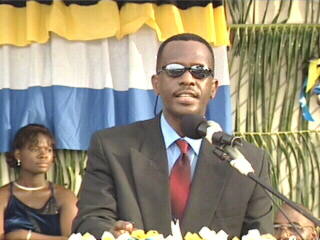 Minister for Tourism Hon. Philip J. Pierre
Tuesday, September 02, 2003 – Minister for Tourism Honourable Phillip J. Pierre has been underscoring the intricate linkages between the survival of the tourism industry and that of national security. The Minister was at the time addressing the latest batch of Police and Ports recruits who graduated on Friday, August 29, 2003 as part of Course 24 administered by the Police Training School located at La Toc.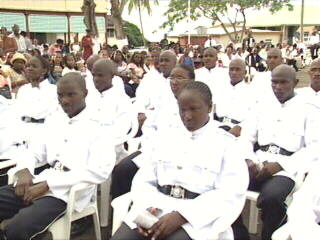 Police officers graduating

Minister Pierre indicated that the greatest challenge to the close to fifty (50) recruits laid not with inadequate salaries and poor working conditions, although he pointed out that government, since 1998 had embarked on a series of measures aimed at improving physical working conditions for law enforcement officers, via the refurbishment or construction of new police stations. The biggest challenge he said would be the prevailing environment in society, which officers would have to contend with. "Let me suggest to you that the straight road is the best road," he pointed out.

"Remember that some of your partners on the block will test your fortitude, threaten, ridicule and tempt you in an effort to test your resolve. If you fall to these temptations you may benefit in the short run but your self respect will disappear and then you will become useless as a police officer."

According to Minister Pierre, who also holds the portfolio for Commerce, Investment and Consumer Affairs, the police play a critical role in support of the tourism industry and will be called upon even more in light of post September 11. Locally tourism contributes between 11 – 12% of Gross Domestic Product (GDP), provides 50% of the island's foreign exchange earnings and employs 20% of the labour force. With $28 million being invested to promoting the industry, Ministry Pierre said proper security was key to its survival.

"With the increase in the use of the internet and technologies that make communication easier, bad news travel faster and to more people than before. It we agree with the theory that tourism is a large part of our economy and local security is important, then we can postulate that criminal activity is indeed an attack on the economy of our country. Police officers are guardians of the peace and are therefore the main defenders of our economic fortunes," he said.

Thirty-five (35) of the recruits will be deployed to the Police Force while thirteen (13) will go to the St. Lucia Air and Sea Ports Authority. Acting Police Commissioner Ausbert Regis called upon the recruits to carry out their assigned duties with the greatest professional integrity in keeping with the high standards currently being set by the police force and demanded by the public.