Contact: John Emmanuel

Monday, July 28, 2003 - A call has gone out to local entrepreneurs involved in the vital tourism industry here, to find new ways of ensuring that they maximise on returns to be gained from the multi-million dollar infrastructural investments ploughed into the sector by government and its related agencies.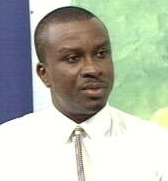 Vincent Hipployte, General Manager of the St. Lucia Air and Sea Ports Authority
The call came on Monday, July 28, 2003, from General Manager of the St. Lucia Air and Sea Ports Authority (SLASPA) Vincent Hipployte, as the organization kicked off a special week of activities in commemoration of its 20th anniversary. According to Hipployte, government, via SLASPA, continues to invest heavily in the tourism sector by means of state-of-the-art infrastructure and marketing initiatives.

He says in most cases, such investment has borne fruit as can been seen in sharp increase in visitor arrivals to the island. Statistics indicate that visitor arrivals jumped from 200,000 in the mid 1980's to 521,000 in 2000. However, Mr. Hippolyte says more gains can be achieved if only local business persons position themselves strategically.

"If SLASPA via the Government and those agencies that have responsibility for ensuring that we attract tourists to our shores play their part, then those persons who are involved in the business sector must ask themselves very serious questions," Hippolyte said. "Are we doing enough to really maximise our returns from those persons who are coming to St. Lucia? When 500,000 passengers come to St. Lucia, the businesspersons must ask themselves, what are we doing and how can we do more in order to derive more money from those persons?"

The various air and seaports operations on the island are expected to process well over 500,000 visitors next year, as the sector continues to recover from the September 11, 2001 drop in figures.