Contact: John Emmanuel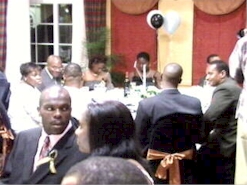 Guests at Surveyor's Dinner
Tuesday, September 30, 2003 - The long awaited amalgamation of valuation, land and quantity surveyors under a single umbrella body dubbed the 'Institute of Surveyors St. Lucia Incorporated', has received the nod of approval from government. Minister for Physical Development, Environment and Housing Honourable Ignatius Jean, who addressed the grouping's inaugural dinner on the weekend at the La Toc based Sandal Regency said, the coming together represented a significant step in helping to demystify the role and functions of surveyors to the country.

"Indeed your contribution to the development of St. Lucia will all do recognize," said Minister Jean. "I trust that with the formation of this new organization and the merger of all surveyors under one umbrella will go a long way towards responding to the new challenges of being able to innovate and modernize and to ensure that you keep up to date with learning and the best practice."

Minister Jean advised the Institute to place continuous learning and training high on its agenda, in order to attract new entrants and to keep pace with changing times. He called for greater harmony amongst the new institute, the government and other organizations like Cable and Wireless and the St. Lucia Electricity Services Limited (LECELEC) - companies that have ventured into the area of geographic information systems technology.

President of the Institute Ronald Gardner, noted the contribution surveyors made to the island's history, dated back to the early stages of the colonial era. "I would like to make the point that the practice of surveying along with medicine, are perhaps the two oldest professions in St. Lucia. I say that because quite apart from what must have been a location survey of the island commissioned in 1492 by one Christopher Columbus. Suffice it to say that one of the earliest surveys of St. Lucia dates back to the 18th Century, representing a survey map which was completed in 1981," said Gardner.

According to him, "this survey formed the basis of all other cadastral surveys on the island. I am also advised that the earliest registered survey on record is dated 1771 and this survey was of the Bexon and Forrestierre areas."

The Institute has committed itself to a long-term major project involving the research, compilation and publishing of the history of surveying on the island. The newly formed Surveyors' Institute has thus far received close to fifty (50) applications for membership and will itself seek membership to the Commonwealth Association of Surveying and Land Economy, which operates in thirty-two (32) countries.