Contact: John Emmanuel

Tuesday, July 08, 2003 - The approval of fifteen (15) regional governments, eight (8) Central Banks and Monetary Authorities and four (4) Stock Exchanges across the Caribbean have given rise to the formation of a new regional financial entity dubbed "FirstCaribbean International Bank," a merger of what was formally CIBC Caribbean Limited and Barclays Bank PLC. On Monday, July 7, 2003 customers throughout the island were exposed to the new entity, its colours, logo and customer-focused changes.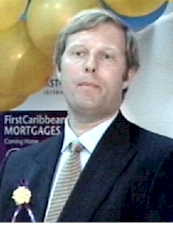 FirstCaribbean's Chief Executive Officer - Charles Pink
FirstCaribbean's Chief Executive Officer - Charles Pink at an official launching ceremony on Sunday, July 6, 2003 stated that the intention behind the new venture was simply to be the bank of first choice for customers and employees in the region, ranking first for service, technology and innovation. "We intend to be a bank that focuses on the customer; that puts the customer at the centre of all our planning and processes, and does so with the most convenient and up to date processes and technology," exclaimed Pink.

He went on to explain to the sizable audience made up of dignitaries, government officials, financial planners and a large contingent of bank staffers, who had to be moved inside Barclays' Headquarters on Bridge Street due to the inclement weather, "we intend to make major investments that neither CIBC nor Barclays would have been able to make on their own. For example, we will introduce new services like telephone and internet banking. These will give customers choice in how we serve them. They can be served from their homes or offices, or if they prefer, they can still come into a branch on the island. We will also be introducing CIBC's capital markets across our whole corporate customer base and we will expand Barclays' considerable expertise in offshore banking, what we now call internet banking, to CIBC's substantial international customer base."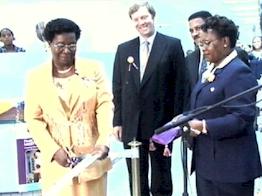 Governor General Her Excellency Dame Pearlette Louisy cutting ribbon
FirstCaribbean has introduced four key lines of business across the region to serve distinct customer groups. Retailing banking will serve personal customers with a complete suite of savings, borrowing and investment products, while Corporate banking will offer unique products and services to small and medium size businesses and commercial clients. Additionally the International banking segment and the Large Corporate and Capital Markets segments will serve the unique needs of their distinct customer groups.

Executive Director for Retail Banking - Julian Murillo indicated that St. Lucia was the seventh in FirstCaribbean's network to undergo the re-branding changes as part of the bank's two-year long integration programme. Later this year, further technology changes including the installation of a common bank-wide computer network and the introduction of a new and updated suite of products will also occur. "CIBC and Barclays obviously had the option of remaining as separate smaller organizations but when we considered the benefits for our customers, shareholders and our staff, of pooling resources of both institutions and doubling our footprints in the region, it became clear to us and to our parent organizations in Canada and the UK, that a combination however difficult and complex was the most preferred course of action," said Murillo.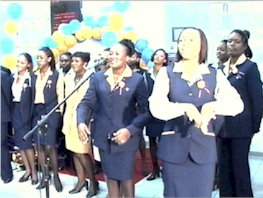 First Caribbean International Bank's choir
Deputy Prime Minister and Minister for Education Honourable Mario Michel endorsed the venture in light of the fact that banks around the world and the region were consolidating, forming joint-ventures to achieve size and critical mass. "The Government of Saint Lucia welcomes the combination and consolidation of the banking and financial services operation of two traditional banking giants in Saint Lucia and the creation in the process, of one of the largest financial institutions in Saint Lucia and indeed in the Caribbean as a whole. We hope that the new bank will have a long, productive and mutually rewarding life here on the island, "said Minister Michel.

FirstCaribbean operates six branches in St. Lucia and employs 160 persons.