Contact: Primus Hutchinson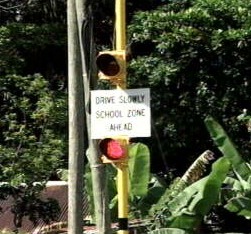 Friday, October 24, 2003 – School Children island-wide are being provided with what has been described as better safety measures around their school zones. This is an initiative of the Ministry of Communications, Works, Transport and Public Utilities, which has commenced the installation of traffic flashers in a number of school zones around the island. The presence of traffic flashers serves to warn motorists and pedestrians, that they need to exercise greater than normal caution within these special zones.

Driving Examiner with the Ministry of Communications and Works, Martin Joseph says, the traffic flashers will also help to improve the level of safety in these zones. According to Joseph, the safety of school children and pedestrians generally, are greater at risk due to uncaring and reckless motorists on the island's public roads.

"So obviously, they need to exercise a lot of caution here and one of the things they need to do is to reduce their speed. Twenty miles an hour should be the maximum speed you should use here, but remember it may not even be safe to do that at times," Joseph said.

However, Joseph sounded a word of caution for pedestrians, particularly school children, to always exercise caution when using the roads. Joseph noted that parents should instil a strong sense of discipline in their children, teaching them to walk in a single file and to avoid reckless behaviour while on the road. he indicated that the Ministry's defensive driving programme also helps to educate people about proper road safety practices.

The traffic flashers are being installed in school zones, especially those located along the highways. According to Ministry Officials, to increase the cost effectiveness of the project, Solar Powered Lights which requires less maintenance have been installed in those zones. Such lights can store power up to six days without direct sunlight and will be in operation between 6.00am to 6.00pm during school days.