Contact: Primus Hutchinson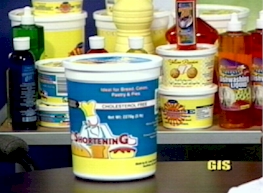 Monday, July 14, 2003 - Stakeholders of the St. Lucia Coconut Growers Limited are painting an auspicious picture for the future prospect of the company. The company which is better known for its Magic cooking oil and margarine has began supplying the local and regional market with other oil products in an effort to enhance its image.

A member of the Board of Directors, Fred Flood says, in-spite of the many challenges the company has experienced in times past, there exist at the moment an air of expectancy that the St. Lucia Coconut Growers will impact positively on these markets. Flood is of the opinion that recent developments within the company augurs well for expanding its profit margin.

Flood indicated that the company will be purchasing new equipment to make copra producing much more economical and a much less burdensome product.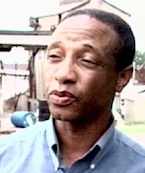 General Manager of the Saint Lucia Coconut Growers Limited, Kenneth Gazaboun
General Manager of St. Lucia Coconut Growers Limited, Kenneth Cazaubon, is of a similar view. According to Cazaubon, the company has great plans and already they have begun the initial phase to introduce a set of new products on the market.

"We are coming out with, with our new dish washing liquid and now we are looking at a new massage and body oil and some baby oil down the road; so there is a lot of prospect for he company in the future." Cazaubon said.

According to Cazaubon, they have modelled their products on those from the international market in an effort to keep up to the competition.
Included among the future plans of the company is the enhancement of the aesthetics of its physical infrastructure.