Contact: John Emmanuel

Tuesday, October 14, 2003 - As member countries of the Eastern Caribbean Currency Union (ECCU), continue to mark Financial Literacy Month in October, Governor of the Eastern Caribbean Central Bank (ECCB), Sir Dwight Venner, has been shedding light on the region's ability to maintain a strong EC dollar.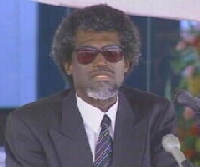 Sir Dwight Venner - Governor of the Eastern Caribbean Central Bank
In a televised address to be aired in ECCU member countries, Sir Dwight highlighted two reasons he said were responsible for the buying rate of $EC2.7 to the $US 1 – an exchange rate that has remained constant for close to three decades. The first reason, he stated, was the Treaty of Basseterre signed in 1981 and the second, the ECCB agreement signed two years later.

"In the ECCB agreement, full knowledge of the situation was required with respect to the currency arrangement that they, meaning the founding fathers, went into. They then set up what is called a ruled based system subject to the checks and balances of a multiple-country arrangement and that has been the fundamental reason for the stability of the currency," said Sir Dwight.

He went on, "Legally the currency cannot be changed except by unanimous agreement and also given the currency arrangements, it has to be highly backed by law." That policy the ECCB Governor explained, has benefited the region's economies and citizens, in that both consumers and investors have greater confidence due to price stabilization. Prices for basic commodities within the ECCU has remained constant for well over five years as a result, he said.

The EC Currency is generated primarily through exports which in turn produce foreign exchange, direct investment such as large infrastructural development, remittances from nationals working or living overseas and from foreign aid.