Contact: John Emmanuel

Wednesday, October 29, 2003 - The curtains will come down on Thursday, October 30, 2003, on a three-day exhibition being mounted at the Vieux Fort Town Hall. The event represents a one-of -a-kind collaboration, between the National Skills Development Centre (NSDC) and the James Belgrave Micro-Enterprise Development Fund (BELfund), designed to showcase the skill and talent of young and budding entrepreneurs.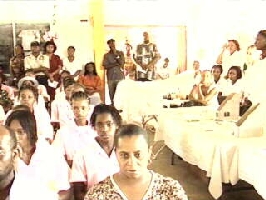 cross section of persons at opening ceremony for Open Day and Exhibition
Since its inception, some three years ago, the Belfund has assisted over 200 St. Lucians in setting up their businesses, by providing capital of nearly $EC2.5 million. According to BELfund Chairman Henry Mangal, "the fund remains the only financial institution in St. Lucia that lends money for entrepreneurial projects on the strength of just the project proposal, with absolutely no deposit on security required." Mangal said, based on that modus operandi, no apologies would be made on the tough stance of the viability of those project proposals. Twice as many projects that have received funding by the fund, have been turned down for one reason or another.

The intervention on the part of the Bisee based NSDC and the Leslie Land headquartered BELfund, have led to employment for well over four hundred (400) persons involved in diverse fields, like service and trades, manufacturing and industry, retail and distribution, fishing, farming and livestock production. The two organizations have forged a symbiotic relationship, with the NSDC providing the prerequisite training, while the Belfund provides the funding. That system, according to Social Transformation Minister Honourable Menissa Rambally, augurs well for St. Lucia, given today's competitive environment and government's intention to ensure that the less fortunate in society are not left behind.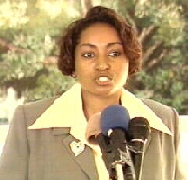 Honourable Menissa Rambally, Social Transformation Minister
"Often times we take it for granted that when agencies have been established and formed, that persons within the various communities know about the programmes and know what's available. Today, the BELfund and the NSDC are saying that we are not taking it for granted in that we want to ensure that persons within our communities, particularly within the south, have an opportunity to grasp for themselves what is taking place at these two organizations."

Nearly fifteen small enterprises are taking part in the three day event as a showcase of the skill and seriousness of young and pioneering St. Lucians.