Contact: Primus Hutchinson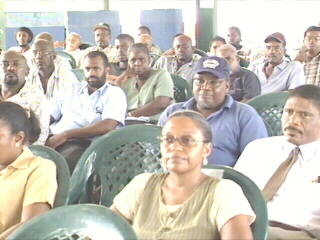 Farming community
Tuesday, September 02, 2003 - The major players in the banana industry here have launched what is anticipated to be a very aggressive campaign to get banana farmers to be EUREP-GAP compliant by December 31, 2003.
Director of Agricultural
Services
Julius Polius Photo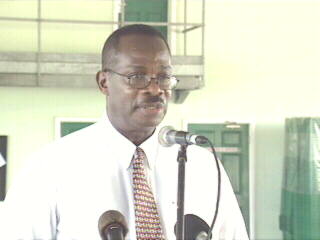 Chairman of BERU
Hilary La Force Photo
This was sparked off as a result of an initiative by the European Retailers Working Group, known as EUREP, which represents the main supermarkets. Their main objective is to seek common standards and procedures for the development of Good Agricultural Practices, GAP. The EUREP-GAP came into being principally to ensure food safety for their customers.

Chairman of the Banana Emergency Recovery Unit (BERU), Hilary La Force, says in an effort to meet the December 31 deadline and realising the limited time available in which to do so, a subcommittee has been appointed to develop an action plan to get banana farmers to be EURREP-GAP certified in the quickest possible time.

According to La Force, among the issues that the committee recommended are: a massive education programme which is expected to sensitize the farming community as well as the public to the importance of this initiative; a programme aimed at working with farmers on an individual basis in an endeavour to meet the various criteria to become certified; instituting some support services which would allow the farmer to meet that certification initiative.

Permanent Secretary in the Ministry of Agriculture, Julius Polius, stated that in spite of the many challenges that have confronted the farmer in the past and at present; they have continued to maintain a certain level of competitiveness in the industry.

Polius indicated that the EUREP-GAP protocol will strengthen the Ministry's resolve to continue to maintain a viable banana industry. However, he added that for this to be achieved the farmers must be prepared to work together since it will be impossible for individual farmers to do this single-handedly.

"The challenge that this EUREP-GAP will bring, will force us to get our farmers to work together one more time. I think this is what is vital for the success of the banana industry" Polius said.

The main stakeholders involved in the EUREP-GAP Compliance Campaign are the five banana companies, WIBDECO and BERU.