Contact: Julita Peter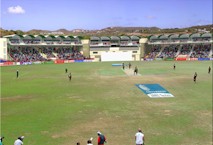 Wednesday, May 29, 2002 - As St. Lucia inches closer to the hosting of the one-day international cricket match between West Indies and New Zealand on June 8th and 9th local coordinators say tickets sales are doing extremely well. According to Oliver Scott Junior of the St. Lucia National Cricket Association, the aim is to raise at least $ 800,000 dollars for each match.
"That's the minimum target which has been set by the Board to us, and we are quite confident we can reach that target, quite easily. But we do not want a situation where the ground is full and quite a number of St. Lucians who wanted to get into the gate are locked outside and they have the money and those tickets are not available. So we are asking St. Lucians to please take advantage of the fact that we have opened the sales of the tickets very early. Come to the Jazz Shop and ensure that they purchase their tickets so we will have a fair and sizeable turnout of St. Lucians at the park for both days" Scott explained.
Tickets for the matches range from forty dollars for grounds to one hundred and twenty dollars for the all-inclusive party mound and can be purchased at the Jazz Shop at Point Seraphine. Tickets for the games may also be booked by calling the West Indies Cricket Board's toll free line 1-800-744-GAME .
Meanwhile officials of the Department of Youth and Sports here say the new cricket stadium will be formally opened on June 07, 2002.