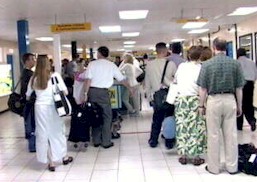 Thursday, March 07, 2002 - St. Lucia is currently holding discussions with two transatlantic air carriers – British Airways and Virgin Atlantic with a view to increasing air lift out of the United Kingdom to St. Lucia in an effort to accommodate increased demand.
Speaking at a press conference on Thursday, the Minister for Tourism Honourable Philip J Pierre said anticipated visitor arrivals from the United States of America and the United Kingdom this year are promising.
"Last month I had the opportunity to join the Chairman and Director of the St. Lucia Tourist Board on a visit to the USA where we met with most of our major wholesale tour operators. The discussions we had were very encouraging. Every operator is projecting increased bookings to St. Lucia this year," said Minister Pierre.

(L-R) - Hilary Modeste - Tourism Director, Philip J. Pierre - Tourism Minister and Mc Hale Andrew - P.S. Ministry of Tourism fielding questions from the media
In the case of the UK market, he noted, the issue is the inadequate number of airline seats to the Eastern Caribbean and the latest market intelligence from the UK indicates both Virgin Atlantic and British Airways are showing very strong bookings well into July this year.
The Tourism Minister said too that the Caribbean market, which grew by 10.5 percent in 2001, continues to do well and 2002 will be the best year for intra regional tourism for St. Lucia.
Mr. Pierre also called for a collaborative approach to address factors such as noise pollution, over pricing, lack of respect and questionable environmental practices all of which he says have the potential to damage St. Lucia's tourism product.
The Minister also commented on the level of crime in St. Lucia.
"The crimes against tourist here have actually decreased. The crime situation is really worst in the areas not know as tourism areas. But I must say that crime is of great concern. There must be zero tolerance towards all forms of crime, not only crimes against tourist, but crimes generally," the Minister noted.
read also