Tuesday, April 09, 2002 - The Ministry of Education, Human Resource Development, Youth and Sports has organised a Musical Festival for later this month. The festival is aimed at creating public awareness of the wealth of musical talent that exists among the island's school children and seeking greater community support for the Music Education Programme in schools.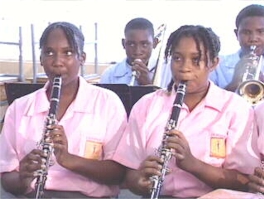 Music Students
Curriculum Specialist for Music in the ministry, Petronilla Deterville explains that the festival will be held in the various education districts. "We are hoping that probably the festival will assist in providing some of the equipment and materials needed for a successful music education programme," she said.
The festival will take place April 22 – 30. The final performances on April 30 will feature combined schools bands like the Wind Band, the Steel Band and the String Orchestra as well as some of the outstanding performances from the various districts.
During the Festival, each school will be allowed a maximum of ten minutes for their presentations. Schools may present one or two items and principals and teachers must ensure that the lyrical content of songs presented is not offensive and is in keeping with the standard values taught in the island's schools.