Thursday, April 11, 2002 - North American Marketing Managers and Public Relations Agencies of the St. Lucia Tourist Board have begun instituting strategies aimed at developing a unified approach towards the island's tourism industry. During the annual North American Conference on Thursday, the participants focused on creating marketing devices for St. Lucia in the US and Canada. One of the major issues discussed the was the Board's Public Relations and Promotional Programme.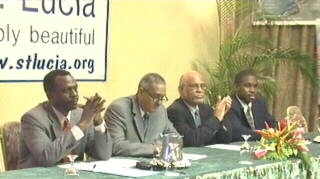 L-R Tourism Minister - Philip J. Pierre, SLTB Chairman - Desmond Skeete, SLTB Director - Hilary Modeste, SLTB Information Systems Manager - Louis Lewis
Minister for Tourism, the Honourable Philip J. Pierre in addressing the opening ceremony explained that the new approach must protect market share and personalize responses to maintain and improve the Caribbean image. "Some of the activities will involve joint promotions with airlines, tour operators, hoteliers and cruise lines. Full page advertisements of Caribbean destinations will be displayed in prominent North American and European travel magazines, brochures will be distributed to travel agents at selected international travel fairs and conferences, and Caribbean musicians and radio stations will be used to promote Caribbean destinations. The main focus of the programme will be on the USA, Canada and Continental Europe."
Director of the St. Lucia Tourist Board, Hilary Modeste, stated that some changes are in the making for the Tourist Board. These changes, according to the Tourism Director will involve renaming the Board .Mr. Modeste indicated that this is expected to give new emphasis and guide the growth of a modern tourism organization enhancing its corporate image.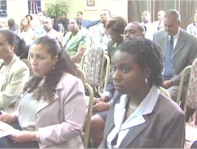 Participants at this year's conference
"Essential to all of this is that we want the Tourist Board to be a knowledge based organization. I am sure in the past there has been a lot of successful marketing strategies based from gut feelings, intuitions, perceptions, experience. I am sure they have quite successful. But a modern marketing agency cannot base its marketing strategy on those notions anymore. It has to be based on scientific data; it has to be based on marketing intelligence. And this is where we are going, with the strengthening of our information system department. We think that this department will be key in moving the Tourist Board forward as a knowledge based organization," Modeste said.
The essential objective according to the tourism official is to position Saint Lucia's tourism product to be able to compete in a globalised world where information, knowledge and productivity are crucial to success.