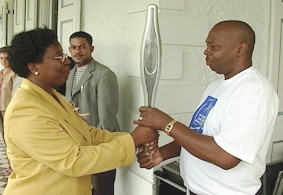 Dame Pearlette Louisy receives Queen's Jubilee Baton
Sunday, March 24, 2002 - The Baton of the Queen's Jubilee Relay arrived in Saint Lucia at the George F. L. Charles Airport at 7:20 a.m. Sunday. It was received by a delegation including Sports Minister, Honourable Mario Michel, British Resident Commissioner, His Excellency Douglas Rice Commonwealth Games Area Vice President, Alexander Chapman and President of Saint Lucia's Commonwealth Games Association, Richard Peterkin.
The Baton began its journey on the island with Saint Lucia's 2001 Sportswoman of the year 2001, Laverne Spencer and was handed to a number of athletes, celebrities and government officials as it made its way to Government House where it was handed to Her Excellency the Governor General, Dame Pearlette Louisy.
In receiving the Baton the Governor General said "It is my wish that as the Baton is carried aloft throughout our cities, communities, towns and villages the pulse which it emanates will touch the spirit of community and unity."
The Baton will be carried around Saint Lucia over two days by several citizens including Prime Minister, Honourable Dr. Kenny D. Anthony and will leave Saint Lucia on Wednesday.
Dame Pearlette says "It is my wish that as the Baton continues on its journey throughout the Commonwealth Member States we will be encouraged to remember the common humanity of man even while we celebrate diversity."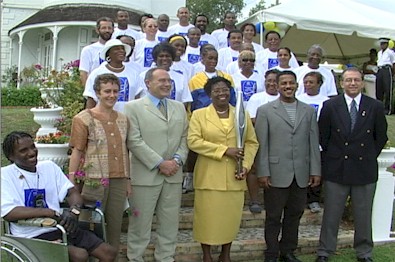 Athletes and dignitaries at Government House Sunday with Queen's Jubilee Baton
On 11th March 2002, the Baton left Buckingham Palace for an epic journey around the Commonwealth. The Relay will visit 22 Commonwealth countries before returning for its 50-day tour of the United Kingdom for the opening of the 2002 Commonwealth Games in Manchester. This year's Commonwealth Games coincides with the Golden Jubilee of Her Majesty Queen Elizabeth II.
The relay's futuristic Baton, which takes the pulse of those who are lucky enough to hold it, will carry Her Majesty's Commonwealth Message around the globe, helping to create a feeling of inclusion and unity. The Queen's message is contained in an aluminum capsule inserted into the top of the Baton. By pressing down on the cap and turning, the capsule is released.
links