Tuesday, January 22, 2002 - The Poverty Reduction Fund (PRF) is getting ready to embark on a novel programme that would foster greater involvement of communities in project implementation. This direct participation of communities dubbed 'Community Contracting,' will provide communities with the financial resources to manage and implement their own initiatives.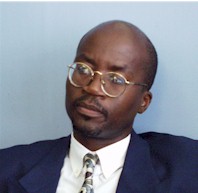 Donovan Williams - Executive Director, Poverty Reduction Fund
Executive Director of the P.R.F. Donovan Williams says efforts have gotten underway here to implement the new method in the areas such as Riviere Mitter and Dennery. According to Williams the PRF is receiving support in this from the World Bank and the Malawi Social Action Fund.
"This is a fund established to implement that type of method of contracting exclusively and they have, over the past four years, implemented over four thousand projects in Malawi. There is therefore a wealth of experience from that perspective in terms of how we go about the process, some of the do's and don'ts, and we have been working closely with the Malawi Director to fine-tune those mechanisms," said Williams.
The PRF has conducted training sessions with representative organizations in Riviere Mitter and Dennery and will provide more in-depth training to participants in coming days. The hope is to formally launch the projects within the next two weeks.