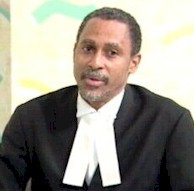 Justice Adrian Saunders
Monday, February 25, 2002 - High Court Judge Justice Adrian Saunders has described the four-day orientation programme for newly appointed judges of the Eastern Caribbean Supreme Court as extremely timely. He says this is an important milestone as never before had newly appointed judges been exposed to any formal training before assuming their responsibilities.
The exercise being conducted at the Bay Gardens Hotel this week will give newly appointed judges of the court a comprehensive introduction to the judicial life on the bench, and will also provide an opportunity for senior judges to share ideas and experiences in order to enhance the efficiency of the new judges.
"Increasingly as the judicial and legal systems undergo a process of major reform, as public officials are held to stricter levels of accountability, as the judiciary addresses the demand of the general public for a more relevant, transparent and effective justice system, and as the international community in response to the imperatives to globalisation require of us greater efficiency in the administration of justice, a judge, especially a newly appointed judge, cannot continue in the old way," Saunders said.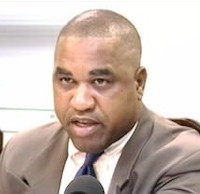 Senator Petrus Compton, Attorney General
St. Lucia's Attorney General Senator Petrus Compton says, for his part, judicial education is often overlooked as an integral component of the overall process of judicial reform. The process of judicial education, he added, must be regarded as fundamental, not only to the overall process of justice system reform, but indeed to the new approaches to governance, which those changes demand.
"For our new judges this orientation programme commences your education as a judge; it does not end here, it does not end when the program is over. I welcome this orientation program for the signals that it sends about our seriousness in relation to reform of the justice system," Compton added.
The Judicial Education Institute of the Eastern Caribbean Supreme Court organized the orientation programme for new judges. The institute was established in 1997 as a vehicle for the continuing education and training of members of the legal fraternity within the Eastern Caribbean.
The programme will address topics such as judicial management, judicial ethics, judicial independence, communication in the courtroom, judicial protocols, gender sensitivity, role of the judge in the courtroom, and stress management.
The program has been funded by USAID and will be facilitated by regional and local experts.