Tuesday, April 09, 2002 - United States Ambassador designate to St. Lucia, His Excellency Earl N. Philips Junior presented his Letters of Credence to Governor General Her Excellency Dame Pearlette Louisy on Tuesday.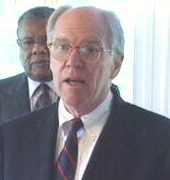 His Excellency Earl N. Philips Junior
During the short presentation ceremony the US Ambassador indicated that St. Lucia and the United States share common bonds and interests. He spoke of the Mutual Legal Assistance and the Existence Extradition Treaties as indicative of the co-operation between the two countries.
Ambassador Philips suggested that the tragic events of September 11, 2001, gave new urgency and meaning to the bonds of friendship and shared experiences between St. Lucia and the United States as "citizens of both of our countries died at the hands of international terrorists".
He said: "As we work together to bring those responsible to justice and to strengthen the safeguards which guaranteed safety to our peoples, I am confident that the co-operation between our countries will continue to grow. I am here to continue in the spirit of the 1997 Barbados Accord and to work towards the successful implementation of President's Bush's Third Border Initiative."
St. Lucia's Governor General, Dame Pearlette Louisy, shared her belief that the collaborative efforts of the US and Saint Lucia in combating illegal trafficking are bearing fruit. The Governor General noted that St. Lucia continues to benefit from its cordial relations with the US, in technical and developmental areas. She indicated that this has contributed to the economic, social and environmental infrastructure, thereby impacting positively on the national economy. However, the Governor General warned that the challenges associated with globalisation and trade liberalization will continue to place increasing pressures on St. Lucia by virtue of its size and scarce resource base.
"You spoke, Your Excellency, of your government's support for the efforts of the Government of Saint Lucia in expanding our country's economic base and thereby improving the quality of life of the people of Saint Lucia. These efforts are constantly being thwarted and threatened by external events over which we have little control and it is with the greatest difficulty that we are able to maintain this base that we currently have," Dame Pearlette told the Ambassador.
The Governor General explained that Saint Lucia looked forward with anticipation to the implementation of the Third Border Initiative. "The components of health, trade, human resource development and security which this initiative encompasses will set the stage, I am sure, for creating that type of enabling environment which holds promise for a brighter, safer future of both our countries," ended the Governor General.