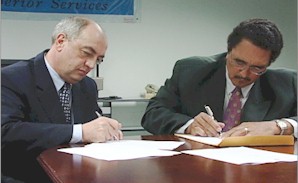 David Mellor, President of Cable and Wireless' Virtual Academy (left) and Prime Minister Honourable Dr. Kenny Anthony (right) signed the Memorandum of Understanding to provide on-line educational access for Tertiary Education
Wednesday, February 20, 2002 - The Government of Saint Lucia, on Tuesday, signed a Memorandum of Understanding (MOU) with the British-based telecommunications company - Cable and Wireless - to provide on-line educational access to students wishing to pursue post secondary education. The agreement provides for St. Lucia to participate in Cable & Wireless' Virtual Academy, which allows students to undertake degree programmes on-line (via the Internet) in areas such as Law, Management, Engineering, Telecommunications Law and Electronic Commerce.
According to the Permanent Secretary in the Department of Education and Human Resource Development Dr. Didacus Jules, who witnessed the signing, institutions such as the Sir Arthur Lewis Community College will welcome this new extension of tertiary education.
"We all know that virtual learning is in. The modes of learning and education are being rapidly transformed by the Internet, and we certainly welcome the approach being made by Cable and Wireless to extend the operation of the virtual academy and in particular to provide access to St. Lucians by way of scholarships to this programme."
Dr. Jules said the Ministry of Education, Human Resource, Youth and Sports developed a collaborative relationship with Cable and Wireless about four years ago, which has brought benefits to the education system here to the tune of five million dollars to date. The ministry, he added, was very thankful to the Academy and to Cable and Wireless for this latest offer which has found new scope for that cooperation.
Prime Minister Honourable Dr. Kenny Anthony signed the MOU on St. Lucia's behalf with David Mellor, President of Cable and Wireless' Virtual Academy, signing on the company's behalf. Mellor noted that Cable and Wireless is developing new, and broadening existing, partnerships to help establish the company as a leading provider of E-education and E-training. The Virtual Academy, he explained, seeks to address the needs of the developing world and to provide scholarships tenable at institutions such as the International Telecommunications Union.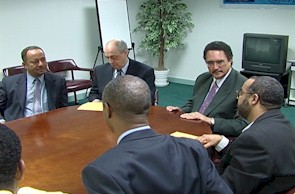 "The purpose of this agreement with the Ministry and the Government of St. Lucia is to demonstrate Cable and Wireless' commitment to the Caribbean and in particular our commitment to St. Lucia. We hope that through the Ministry of Education we will be able to develop specific programmes that will help the whole of the Caribbean," Mellor said.
The signing was witnessed also by the Minister for Communications, Works, Transport and Public Utilities Honourable Felix Finisterre and the General Manager of Cable & Wireless St. Lucia Mr. Donald Austin.