Tuesday, February 19, 2002 - The first ever orientation programme for new Judges convenes here next week with a view to introducing the new appointees to the myriad of issues they will face in discharging their judicial duties. Recently seven new judges were appointed to the Court.
The Judicial Education Institute of the Eastern Caribbean Supreme Court, chaired by Justice Adrian Saunders, is spearheading the exercise, which officially opens on Sunday February 24, 2002 at the Bay Gardens Hotel.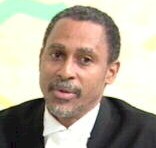 Justice Adrian Saunders, High Court Judge
"In the past it has been generally felt that Judges know everything. You are appointed as a judge and you are expected to know all the law and expected to know all the procedures that you have to follow. This has never been the case but even now it is less so, because we are engaged in a number of reforms and it is imperative that Judges are up to speed with what is happening," Justice Saunders said.
During the weeklong exercise Judges will also look at issues such as judicial ethics and independence, civil and criminal procedures, constitutional interpretation, gender sensitivity and legislation dealing with telecommunications. According to Justice Saunders Telecommunications "is a relatively new field and is going to be an area where there is likely to be greater litigation in the future and we thought that it was important to let the judges have some introduction to telecommunications law."
The Criminal Assizes will adjourn for the week of February 25 to March 1,2002 to facilitate the orientation seminar for Judges. According to Justice Saunders the disruption will be compensated for by the fact that Judges will be better equipped to handle judicial matters.