Monday, March 11, 2002 - The Ministry of Tourism will convene a number of focus groups within the next six months to discuss the feasibility and impact of a number of policy proposals made at the recently concluded National Tourism Policy Forum. The focus groups will seek to broaden the discussions on the main recommendations coming out of the forum.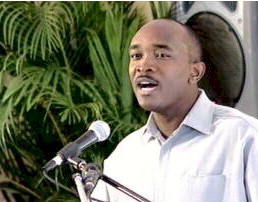 Mc Hale Andrew, Permanent Secretary in the Ministry of Tourism
That's the word from the Permanent Secretary in the Ministry of Tourism McHale Andrew. "Obviously because of the logistics and the limits of physical space we could not have everyone here," Andrew said. The one-day forum was held at the Jalousie Hilton Resort and Spa in Soufriere on Friday, March 08, 2002 "for planning and reflection with a single purpose - to safeguard and further the interests of St. Lucia's most vital tourism industry".
Andrew says the presence of a number of parliamentarians at the national tourism forum last Friday signifies government's commitment to implementing the decisions taken and policies discussed. The collective views presented at last week's discussion will be documented to guide the process of further consultation and implementation.
Prime Minister Honourable Dr. Kenny Anthony, speaking at the end of last Friday's event, welcomed the policy suggestions although he cautioned that many would have to be researched further. He also emphasised that tourism polices must be holistic.
"We must never forget there is a larger constituency for which you have to be accountable – and I do not speak of a constituency in political terms. We must not believe that this tourism industry belongs to us and us alone; it belongs to all the people of St. Lucia. So whatever policies we carve and we shape we must make sure that these polices are acceptable to the people of our country," the Prime Minister said.
Beyond the focus group discussions, the main policy recommendations will be distilled and collated into a new national tourism policy along with a plan for implementation which will be presented to the Cabinet of Ministers for consideration.