Monday, January 21, 2002 - As the much anticipated announcement of the 2002 St. Lucia Jazz Festival Line-up was made public in St. Lucia on Monday, January 21, 2002, it has also been disclosed that the over-10-year-old event is to undergo fundamental modifications in keeping with the changing times. Commerce, Tourism, Investment and Consumer Affairs Minister Honourable Phillip J. Pierre, told tourism officials, members of the media and the many sponsors, that in spite of expanding the festival's reach over the years to include more venues and greater involvement of locals, more still needs to be done if the festival was to remain on the cutting edge.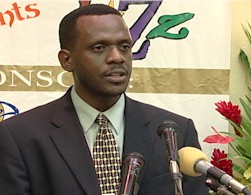 Hon. Philip J. Pierre - Minister for Tourism
"The time has come to review every aspect of the festival. Do we need greater involvement of the private sector in its management? What new objectives do we need to consider as we take the festival into its second decade of existence?" Minister Pierre asked.
The cost of staging the festival has increased over the years, Pierre noted. "When the festival began in 1992 there were no more than 10 shows, today there are more than 30 shows during the week-long activity attracting more than 14 thousand locals and visitors," he added said.
The Tourism Minister says in order to review the Jazz Festival's funding mechanism, immediately after the conclusion of this year's event, which is scheduled to run from May 3 -12, his Ministry will commission a study of the Jazz Festival. The study is expected to assess where the St. Lucia Jazz Festival is now, what needs to be done to improve upon it and outline a strategy for the next five years.
Board officials are somewhat concerned about oversees arrivals to this year's festival given the events of September 11 last year, and as a result an aggressive promotional and marketing strategy has been embarked upon in Europe, the United States and the Caribbean. Chairman of the Tourist Board Desmond Skeete says it was no easy task coming up with this year's line-up.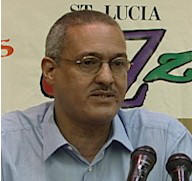 Desmond Skeete - Tourist Board Chairman
According to Skeete, "We brought in a number of people from outside of the St. Lucia Tourist Board who have a musical background and who have been friends with the Board for a long time. We asked them to be brutally honest and say to us what they thought of the line-up and where they thought we had been going, whether or not we've been going wrong. They provided a tremendous amount of information and that is also reflected in this line-up. The Board also set up a line-up committee made up of people from the Board together with those from outside."
The 2002 line-up comprises 17 spots - 9 are jazz acts, 1 blues, 1 world music, and 6 R&B. Two St. Lucian groups are included in the line-up. Four of the larger acts meantime are yet to be announced. Patrons can surf the board's new site at stluciajazz.org for names of artistes taking part in this year's event along with information on any changes. Some of the big names include Chucho Valdez, Abdullah Ibrahim, Ronald "Boo" Hinkson, Stephanie Mills, Luther Francois and En Vogue.
The Jazz Festival was first staged in 1992 and has been dubbed a resounding success by way of realizing its objectives, that of promoting St. Lucia overseas and helping to attract visitors to the island especially in the traditional slow season.