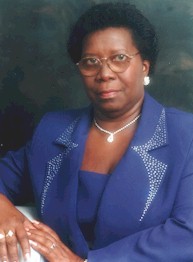 Her Excellency the Governor General, Dame Pearlette Louisy
Wednesday February 27, 2002 - St. Lucia's first female Head of State, the Governor General Her Excellency Dame Pearlette Louisy will feature prominently in this year's commemoration of International Women's Day, observed annually on March 8.
The Governor General will address a luncheon lecture next week at the Indies Conference room on the theme for this year's observance "Women and Men in Partnership: Taking Responsibility". The presentation is expected to include an interactive element. It also coincides with International Women's Day, and is being dubbed as the highlight of the week-long calendar of activities expected to bring awareness to issues concerning women.
Activities to mark International Women's Day will be launched on Sunday, March 03, with a church service at the St. Joseph the Worker Church in Gros Islet, starting at 7 a.m..
Director of Gender Relations Lera Pascal says this year's activities will focus on healthy living, the realisation of the full human potential and gender partnership.
"Although it is an annual affair, every year we focus on a different aspects, we focus on a different theme and the theme this year is about taking responsibility. We feel if people take responsibility in partnership then a lot of the problems that we face can be resolved. Our activities will focus on this, for e.g. we have a healthy lifestyles promotion - this will take the form of presentations and discussions in a number of areas such as domestic violence, mental and physical abuse, balancing home and work," she added.
Other activities will include an address by the Minister of Gender Relations Honourable Sarah Flood Beaubrun and a musical concert featuring women, which will be taped before a live audience for subsequent broadcast on national television.