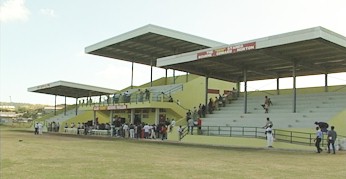 Newly erected stands at the Phillip Marcellin Grounds
Thursday, March 07, 2002 - The newly refurbished Vieux Fort playing field, now renamed the Phillip "Magii" Marcellin Grounds was officially opened on Wednesday, March 06, by Prime Minister and Member of Parliament for Vieux Fort South Honourable Dr. Kenny Anthony.
The improvement work on the facility was estimated at 2 million Eastern Caribbean dollars, a significant portion of which was donated by the local private sector. According to the Permanent Secretary in the Department of Youth and Sports Ernest Hilaire, the refurbishment represents a broader development plan to harness sporting talent and to upgrade all sporting facilities on the island.
"It involves the establishment of national sporting facilities such as, the national cricket ground and the national stadium and the upgrading of what we call zonal playing facilities," Hilaire said.
These "zonal" facilities would include playing fields in Vieux Fort, Dennery, Soufriere, and the Mindoo Phillip Park in Castries.
Hilaire added: "The hope is that we will not only have facilities meeting international sporting standards, but we will also have zonal facilities that can at least meet regional standards and therefore place St. Lucia in a position where we can start to bid to host or to invite regional sporting organisations to host regional tournaments in St. Lucia, knowing that we do have the facilities to host such matches."
The Permanent Secretary revealed that plans for the opening of multi purpose courts to the back of the Phillip "Magii" Marcellin Grounds in time to host the Windward Islands Schools games in August are in the advanced stages. That facility will have four hard courts.
The Prime Minister, in formally opening the upgraded facility, called for a mural on the walls of the facility depicting local sporting heroes adding that Wednesday's event was long over due.
"The people of Vieux Fort have carried the torch of athletic commitment and success under the most difficult and sometimes and most appalling conditions in the past and if there is emotion this afternoon, I understand it, … because Vieux Fortians have never understood why, despite their athletic prowess, they have been denied facilities conceded to others," he said.
The Prime Minister also presented plaques of appreciation to athletes who were outstanding in the 1980's and earlier and made special mention of many others.
The facility was named was after deceased Phillip Magii Marcellin who was described as a phenomenal goalkeeper.