Thursday, April 11, 2002 - The Ministry of Education, Human Resource Development, Youth and Sports has signed an agreement that officially recognizes the establishment of an on-island office for Education International (EI). The international education institution is the world's largest global union federation and is associated with the International Confederation of Trade Unions. EI opened its regional headquarters in St. Lucia last month with long time educator and trade unionist Virginia Albert at the helm.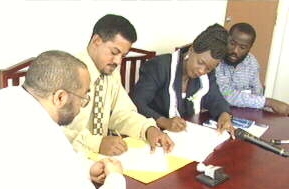 Education Minister Mario Michel (2nd from left) signs with EI's Virginia Albert (3rd from left)
At brief ceremony on Thursday, attended by education officials and representatives of Education International, Education Minister, Honourable Mario Michel said the signing made it possible for the office to be accorded all the privileges extended to international institutions.
Since St. Lucia is the host of the regional office, said Minister Michel, "there are certain requirements that St. Lucia must meet. In accordance with standard practice an agreement has been drawn up between the Government of St. Lucia and Education International which will establish the various principles upon which EI will operate in St. Lucia, the rights, privileges and entitlements of EI and its employees in St. Lucia, and I have been authorized by Cabinet to sign this agreement on behalf of the Government of St. Lucia"
Albert, a past president of the St. Lucia Teachers Union (SLTU) and former principal of the Fond Assau Combined School said the Caribbean stood to benefit tremendously from the setting up of the office, given the kinds of activities undertaken by Education International. EI's objectives among others include giving attention to developing the leadership role and involvement of women in society and the teaching profession. "I look forward to working closely with the Ministry of Education as the official representative of the Government of St. Lucia and other Ministries which EI has dealing with in terms of its activities. I look forward to giving very good representation to the region at the regional and international level," said Albert.
The EI's office is located at Plateau, Babonneau.