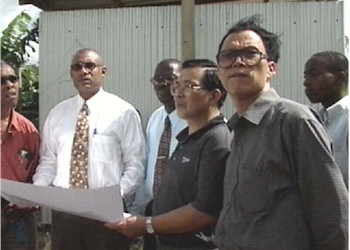 Minister Greaves (2nd from left) and Chinese Officials Study the site for the New Mental Hospital
Monday, May 27, 2002 - As construction work on St. Lucia's multi-million dollar National Stadium in the south approaches the finishing stages, officials of the Chinese Government have joined their counterparts from the Government of Cuba in directing their attention towards a new Psychiatric Hospital for St. Lucia. On Friday, May 24, 2002, representatives of the two governments joined Health Minister Honourable Damian Greaves as he led a team of government officials and technocrats on a site visit of the area earmarked for the new mental hospital.
According to Minister Greaves, under the arrangement, the Government of Saint Lucia is providing the land and site preparation works, the Cuban Government will provide expertise in mental health treatment while the Chinese Government will provide the financing. Greaves says the situation with psychiatric care in St. Lucia needs further examination and redirection with a view to introducing the concept of community health care.
"Of course we have an experiment in Soufriere that will be starting shortly whereby we have a pilot programme and we are hoping that the good examples from that can be replicated in other communities. However, we also need a new psychiatric facility where there will be a different emphasis - one not based on the locking-up of patients but a different kind of care which will be more community based with more community outreach programmes," Greaves told reporters.
With the proposed site in La Pearl, Marigot (along the west coast and approximately 8 miles south of the capital, Castries) receiving the nod of approval technical teams from all sides will meet this week to begin fine tuning the plans for construction of the new hospital.
Said China's Ambassador to St. Lucia His Excellency Gu Huaming: "As far as I am concerned the environment for the hospital is very good. At the moment the Chinese team on the island is busy building the National Stadium in Vieux Fort and as soon as they are finished we will send the experts here to do the research work."
Cuba's Resident Ambassador in St. Lucia His Excellency Victor Ramirez explained that developing a health care system for any country, rich or poor, is not an overnight affair. "It takes time. However, this is a step in the right direction and one that is very much needed. We have some people helping you at the Golden Hope Hospital and St. Lucia really needs it. We have to build it up and St. Lucia can count on Cuba's experience and assistance on this as much as we can," Ambassador Ramirez added.
With the research, site preparation, drawings and other technical details being worked out in coming months, actual construction work is anticipated to begin towards the end of this year or early next year.