Contact - Janelle Charles (758) 468-4318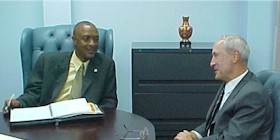 Minister of Communications, Works, Transport and Public Utilities Hon Felix Finisterre discusses Postal Reform with the Executive Director General of the Universal Postal Union, Mr. Thomas Leavy
June 25th, 2002 - Minister of Communications, Works, Transport and Public Utilities Hon. Felix Finisterre on Monday meet with the Executive Director General of the Universal Postal Union Mr. Thomas Leavy. During their discussions they focused on Postal Reform; its impact especially as it relates to staffing matters and its benefits as it pertain to improved postal services. Funding options to aid the reform process was also discussed.
Mr. Leavy's stop in St. Lucia was part of a fact-finding mission to the Caribbean.
The postal reform process seeks to restructure local postal services to bring it in line with the challenges and needs the communications industry.