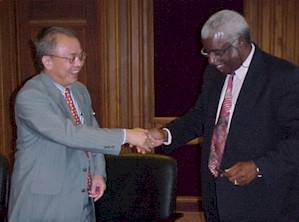 Chinese Ambassador Liang Jianming (left) and Bank of St. Lucia GM Marius St. Rose (right) shake hands to close the deal
Tuesday, January 22, 2002 - Another agreement enabling the transfer of funds to complete construction works on the National Stadium has been signed. The 35 million dollar transfer was signed Monday, January 21, between representatives of the Government of the People's Republic of China and the Bank of St. Lucia.
The Managing Director of the Bank of St. Lucia Marius St. Rose signed on behalf of the Bank of St. Lucia. He says the Government of mainland China has been using the banking facilities of the Bank of St. Lucia to channel funds for the completion of a number of its St. Lucia projects.
"That agreement is to receive the funds so that it can fund the various projects…It's just a formal arrangement for accounting purposes. Basically that is what it is – funds being provided by the Chinese government to assist with the development of certain projects in St. Lucia," St. Rose explained.