Contact: Ayodele Hippolyte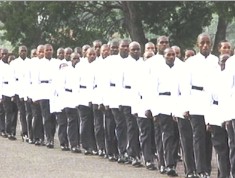 Wednesday, June 26, 2002 - It was with much pomp and ceremony that another batch of police recruits graduated from the Police Training School on Friday, June 21st, 2002. What was significant about this passing out parade of 53 graduates was that they were the first to have benefited from a new recruiting policy and training programme as a result of the police reform process.
Commandant in charge of the Police Training School, Inspector Errol Alexander explained that "The training programme was designed adopting the student-centred learning philosophy, first of its kind, to allow the students to think about they do hear and see both in training and operationally". The recruits were in training for twenty-seven weeks, the longest period ever in the history of the training school, another consequence of police reform.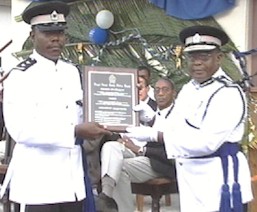 Police Commissioner (r)makes formal presentation of RSPF mission statement to Commandant of Training School(l)
The new programme includes subjects such as sociology, psychology and human dignity in policing. The Commissioner of Police, Brian Bernard, appealed to the graduates to maintain their professionalism in the face of heavy public criticism which will certainly come. He emphasised that "Criticisms are often always forthcoming and seldom do the critics offer solutions. However, we must strive to be professionals at all times and use those criticisms as an impetus to meet those challenges as they come".
The Commissioner then made a formal presentation of the new mission statement and objectives of the Royal St. Lucia Police Force to the school. Guest speaker at the ceremony, Senator Ferrel Charles, congratulated the graduates on their achievement and reiterated the fact that despite the public's criticism of the police force, the society cannot function without it. He also went on to commend the female graduates in particular, "I want to pay special kudos to the young women officers who have chosen this profession. Yours is a special function within the force as more and more reports of sexual abuse, violence against women and children surface".
The award for Best Recruit and the baton of honour went to Woman Police Constable Annanthar Wilson. She also received the awards for Best Shot, Best Military Subjects and Best Turned Out Recruit.