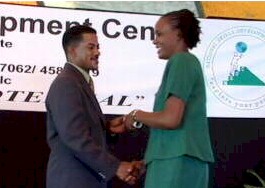 Monday, February 18, 2002 - Over 200 persons officially graduated from the National Skills Development Centre (NSDC) last Sunday. It was the centre's first graduation ceremony since it opened its doors one year ago.
Located in Bisee, the Centre, according to the Permanent Secretary in the Department of Youth and Sports Ernest Hilaire, has a mission to provide information and technical and vocational skills training to help persons gain full-time employment. The Centre, he adds, also offers training in a wide range of "soft skills" such as how to prepare curriculum vitae and for a job interview.
"Our concept is to have, at the centre, a holistic programme where anyone wanting to acquire employable skills can go to and to be so equipped to receive at least favourable consideration from an employer," Hilaire explained.
Speaking at last Sunday's graduation ceremony Minister for Education, Human Resource Development, Youth and Sports Honourable Mario Michel, who has portfolio responsibility for the NSDC, says the shift from an economy largely dependent on agriculture, to one that is tourism and service based, necessitates training and retraining of persons in order to make them employable in the new market.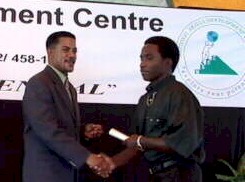 Top and above - Minister Michel hands certificates to graduates
"We have heard too many times how our schools are not turning out graduates who are ready for the world of work, with the assumption underlying, that somehow the schools must provide our students the basics in writing, knowledge of English, Mathematics, Sciences and foreign languages and all of that; and yet also train them specifically for the job market as it stands. Of course, it is an impossible mission and mandate to give to the schools; however, the importance of skills development to prepare people for employment in the job market is crucial," the Minister observed.
The European Union and the Government of Saint Lucia are funding the National Skills Development Centre. However, the Education Minister says his ministry's capacity to continue to source funding to ensure that the centre remains viable depends largely on the success of persons leaving the centre. Whilst most of the graduants have been absorbed by private sector organizations, others are being assisted by the centre in starting up their own businesses.