Contact: Rose Marie Harris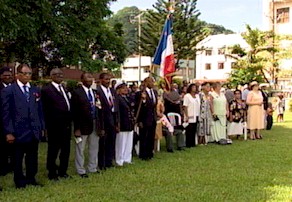 November 16, 1999 - Over the weekend, scores of Saint Lucian and visitors gathered at the Derek Walcott Square, the George the Fifth Park and the Folk Research Centre, to honour and celebrate war veterans of World Wars One and Two. The pomp and ceremony on the Derek Walcott Square brought back memories of a tradition which has been with Saint Lucians for centuries- a salute which signifies the importance of the two world wars to the peace and security that many now enjoy.
It was at the annual Reunion at the Folk Research Centre that Prime Minister Hon. Dr. Kenny Anthony challenged many, particularly the younger generation to play a more significant role not only during the week of November 02-14 but throughout the entire year.
The islandís Governor General, Her Excellency Dame Pearlette Louisy last year began an awareness programme in schools in the south of the island but this time Prime Minister Hon. Dr. Kenny Anthony encouraged her to extend the awareness programme to all students throughout the island.
Meanwhile the Ministry of Foreign Affairs and International Trade has been given the responsibility to ensure that the names of the war veterans are included on the Ministryís Protocol Invitees List. Lamenting on the lack of respect for veterans Secretary of the Saint Lucia Branch of the British Commonwealth Ex-Service League, Dorothy Pilgrim says the veterans are only remembered one a year.