Contact: John Emmanuel
October 29, 1999 -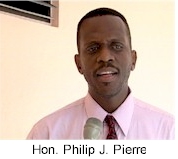 The Ministry of Tourism says it will continue efforts at devising mechanisms to eradicating the troublesome issue of visitor harassment. According to Tourism Minister the Hon. Phillip J. Pierre, the scourge of visitor harassment has long lasting effects on the industry that are difficult to heal.
He says however, measures adopted by government are showing signs of improvement. "Although right now we are not in the peak season the number of reports we have received concerning visitor harassment indicates that the scourge is decreasing. Guests at various hotels are saying that they feel a lot saver due to measures adopted by government, like the presence of beach rangers. Admittedly we still have a long way to go but we believe that if more people benefit from tourism they will serve as guardians to the industry."
Mr. Pierre says no amount of law enforcement will solve the problem of visitor harassment but government will do all in its power and assist in planning and implementing programmes aimed at elevating visitor harassment.