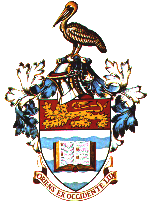 November 30, 1999 - The University of the West Indies has come to the assistance of the Government of St. Lucia, in the evaluation of the underlying cause or causes of the Black Mallet/Maynard Hill earth movement. Drs. Cassandra Rogers and Derek Gay of the Faculty of Engineering, St. Augustine, conducted site visits and met with key personnel involved in the site investigation over November 25 and 26, 1999. They have been provided with all relevant data generated to date, and will work in close collaboration with Government's consultant, the geotechnical engineering firm of Strata Engineering, as well as with officers of the Ministry of Communications and Works, and the Government appointed Task Force.

The UWI team, in concurrence with recommendations previously made by Strata Engineering, reiterated the need for improved drainage upstream and within the area, as a priority, if the movement in Black Mallet and Maynard Hill is to be brought to a halt. It is anticipated that other specific recommendations will be incorporated in the consultant's report.

It is expected that the report on the findings to date will be available from the consultant within the next week or two, pending receipt of the outstanding soil test results from the soils laboratory in Trinidad. A report from the UWI team will also be available within this timeframe.