Contact: Richmond Felix
January 11, 1999 - The local site components of the Environmental and Coastal Resources (ENCORE) Project in St. Lucia and Dominica came to their conclusion at the end of 1998. The projects were mandated to promote partnership between government, the private sector and communities, in achieving the sustainable use of natural resources.
Despite all of its successes, the ENCORE project did encounter occasional hiccups due to its design. A document outlining lessons learnt has been prepared from the experience, which according to outgoing ENCORE National Coordinator Crispin d'Auvergne, makes interested reading for anyone who would like to replicate the project. d'Auvergne explains "In the design stage there was not much consultation with the eventual implementers of the project. As a consequence some assumptions were made about how things were expected to turn out. In some cases the assumptions were flawed and did not reflect reality."
Mr. d'Auvergne indicated that the report also makes reference to the need for consultation in understanding and recognizing problems and being able to find solutions. d'Auvergne says "If you have multiple stakeholders involved in the use of a resource, then ways have to be found to bring them together for consultation and for a solution to evolve."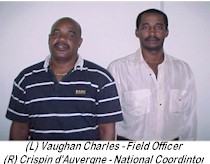 Over its 7- year lifetime, ENCORE St. Lucia has achieved success in marine management, sustainable development, nature heritage tourism, natural resource conservation and liquid and solid waste management. Most noteworthy was the establishment of the Soufriere and the Canaries/Anse-La-Raye Marine Management Areas, and the Gros Piton Nature Heritage Tourism Project.
ENCORE Field Officer, Vaughan Charles says, "All these projects have been implemented with the help of persons within the various communities. It has been more or less on self-help basis. A lot of the projects had a high level of labour and ideas from members of the communities in their implementation, and that was in keeping with the objectives of the project. We're very proud and we think all in all, we've done a great job."
The regional management component has been extended until September 1999, so that the objectives can be totally fulfilled by all implementing territories. ENCORE is funded by USAID, and is implemented through various regional government agencies, with assistance from the World Wild Life Fund. It is expected that the project will link with a new regional environmental project that will come on stream by October this year.