Contact: Julita Peter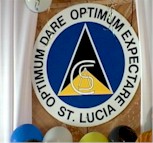 November 16, 1999 - The Civil Service Association is hosting a series of activities to mark CSA Week November 14 to 20. At an opening ceremony on Sunday, President of the Civil Service Association, Terrance Leonard said if members of the Association are to reap equal benefits, all players must seek to work harmoniously . He further commented that the CSA must encourage government to adopt policies which result in a more equitable distribution of benefits. The president also called on the members to aim for the reduction of the tax burden to workers and the improvement of working conditions.
Commenting on the theme for this week's activity "Vision 20000 Creating opportunities and facing New Challenges," Acting Labour Commissioner Andrew James says as the new millennium unfolds and the pace of change accelerates, the nature of work in the Civil service will change dramatically making it imperative for members to grasp every training opportunity.
In delivering her feature address under the caption "Creating a Civil Service for the 21st century," Governor General Dame Pearlette Louisy, remarked that while the 21st century holds different expectations to different individuals it must be noted that the era is intolerable of the type of business which obtains today. It is against this background of constant change she added that the Civil Service of the 21st century must be fashioned. In order to create the kind of service that can respond to, and keep pace with the change in demands Her Excellency said the service needs a vision, and a rallying cry which would unite all civil servants in a common sense of purpose and direction.