Contact: John Emmanuel
January 18, 1999 - As Prime Minister the Hon. Dr. Kenny Anthony prepares to lead a government delegation to Cuba later this week, he is describing as opportune a planned visit to St. Lucia in February of Cuban President Fidel Castro.
The visits come on the heels of a slight adjustment in US government policy towards Cuba and could signal a change in the Caribbean's dealings with the US. The January 22 – 25 visit to Cuba follow several other CARICOM heads of government being invited to Cuba in recent times, among them Barbados, St. Vincent and Grenada.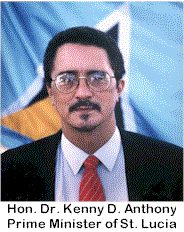 That move is seen as strengthening the family bonds between the Eastern Caribbean and Cuba, and has received endorsement from Prime Minister Anthony. "I have said repeatedly that Cuba is part of the Caribbean family and although we have different systems of government and traditions, it does not mean that we cannot survive on mutual respect of each other's systems. I also believe that those visits have played a key role in helping to shape policy between the United States and Cuba and was pleased that the US eased some restrictions on the Cuban government quite recently. I see that as a tremendous step forward".
That slight shift on the part of the US government concerning Cuba Dr. Anthony says is a direct result of prodding from Caribbean States for the US to rethink its position to Cuba. And though not at the point where he would like to see it, Dr. Anthony says the shift should prompt CARICOM to handle its response to the US with cautious optimism.
With Cuba being a major benefactor of the government of St. Lucia particularly in matters of education, the visit is also expected to provide government officials with a unique opportunity to interface with scores of St. Lucian students studying in that country.
Foreign Minister the Hon. George Odlum has himself welcomed the visit, as Cuba in his view, is poised to play a very important role in the evolution of the Caribbean.
"This link between Cuba and CARICOM States is very significant especially from an international perspective. As you know Cuba has been under a cloud for sometime now with the embargo and St. Lucia has been in the forefront in the move to influence the Americans on changing their position on that. We have developed a friendship especially through the education system and Castro's visit will in some way highlight that".
A Cuban delegation last week wrapped up a visit here in preparation of the visit of Dr. Anthony to Cuba and the arrival of President Castro to St. Lucia in February.