Contact: Prime Minister's Press Secretary
November 1, 1999 - Prime Minister Hon. Dr Kenny Anthony has offered congratulations to the Youth Club of the St. Lucia National Trust on the success of Sunday's National Clean-up Day exercise. Dr Anthony, who issued a public appeal to St. Lucians to be part of the national exercise, says that from all reports, National Clean-up Day was "a tremendous achievement by a group of young people that is worthy of note, emulation and encouragement."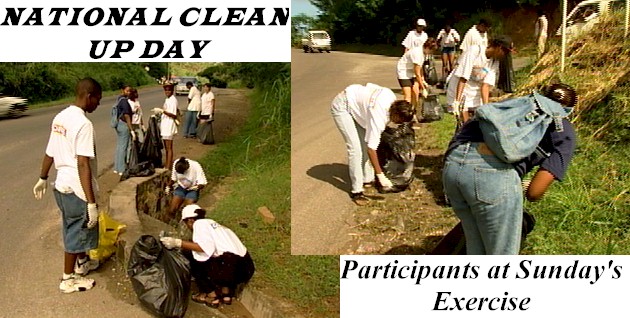 The Youth Club reports a successful clean-up campaign, especially in the northern and coastal areas, in which groups gathered hundreds of bags of litter and placed by the roadsides for transfer to the municipal dumps by private solid waste handlers. There was much private and public sector support for the initiative, the first of its kind in St. Lucia, in both cash and kind.
Dr Anthony had encouraged the Youth Club to "go national" with its clean-up campaign after embarking on a similar exercise to mark earth day last April in the northern part of the island. He said Monday that he was "pleased that the young people at the Trust had been able to mobilise the level of response and participation they experienced in communities across the island."
He said he would have welcomed a greater level of mobilisation among communities in the south of the island, "but overall, I am satisfied that the response nationally was good enough to encourage the Youth Club to plan ahead and better prepare for the next such national exercise next year." Said the Prime Minister: "This is not just about picking up litter on one day of the year, but the beginning of what the Youth Club has assured will become an annual exercise it will sponsor, aimed at inculcating in people's minds the need to clean-up their communities at regular intervals throughout each year." He concluded: "I therefore congratulate the National Trust Youth Club on a tremendous achievement and a job well done. They have not let us down."