Contact: John Emmanuel
November 2, 1999 - The Ministry of Tourism on Wednesday will launch another two heritage sites as part of a weeklong series of activities. The sites will be marketed as heritage tours under the Ministry's Heritage Tourism Programme aimed at providing support to small entrepreneurs, communities and NGO's. Ten sites from around the country are included in the pilot project, with others to be included as they are developed. Tourism officials say the initiatives must meet minimum standards and the criteria for classification as heritage tourism sites.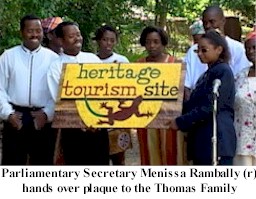 According to Parliamentary Secretary attached to the Ministry the Hon. Menissa Rambally, the drive towards heritage tourism is aimed at providing visitors with a unique St. Lucian experience, based on greater community involvement, environmental sustainability and economic viability. The first site was officially opened Monday with the launching of a Creole Park in Babonneau.
"Today's activity is tangible evidence of the far reaching potential of tourism in this country. The activity here has brought tourism to Babonneau and has brought with it economic opportunity, stability and viability to this community as well. It demonstrates the far reaching effects of the tourism products on rural communities" said Miss Rambally.
An estimated 500,000 cruise passengers are expected to set foot on St. Lucian soil between October 1999 - October of 2000. Statistics indicate that 5% of those disembarking visitors have not bought pre-packaged tours. The heritage programme is designed to take advantage of the market.