Contact: Rose Marie Harris
October 29, 1999 - Saint Lucia is this week celebrating Law Week, a period when the operations that Fraternity will be highlighted. The islandís Attorney General, Petrus Compton in an interview with the Government Information Service blamed members of the Law for the publicís ignorance of the operations of the law system. Mr. Compton says lawyers have failed in their responsibility to explain their duties and responsibility to Saint Lucians. "I think we have failed to explain to people how the system work, to show its shortcomings and to show its strengthens and to ask for the understanding of the community where the system is not as good as we would like it to be."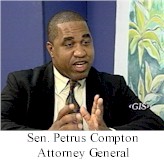 Mr. Compton says one of the troublesome law issue which is of concern to government is the huge back log of criminal cases. Mr. Compton says there has been a decline in the figures over the years but it is still unreasonable high. In an effort to rectify that system, a consultant will be on island to assist the law fraternity in implementing a number of initiatives. One of the primary projects, is the reform of the magistracy. Infact in a monthís time, a judge consultant who will be on island for some six to eight weeks to assist the Law Fraternity in implementing the reforms that have been proposed in the Boar Ryan Report on the Magistracy.
In terms of the High Court Mr. Compton described reform happening there as "exciting programme going between the Attorney Generalís Office and the Office of the Director of Public Prosecution and the police investigators, so as to get advice, support from the DPPís office which will allow for more factual investigating, which will assist the DPP in the courts
Attorney General, Petrus Compton. Mr. Compton made those remarks during an interview with the Government Information Service .
Saint Lucia is this week Celebrating law Week.