October 7, 1999 - With almost immediate effect, banana farmers island-wide will once again begin benefiting from concessions offered by Government.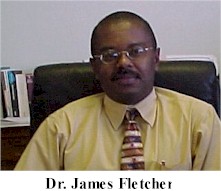 According to Permanent Secretary in the Ministry of Agriculture, Dr. James Fletcher, farmers regardless of which company they are allied to, will benefit from the concessions on the importation on inputs for a two-year period beginning August 1, 1999 - July 31 2001.
"It means that farmer will enjoy duty-free concessions on all inputs for use in the banana industry, be it fertilizers, pesticides, you name they'll get it. There is a very comprehensive list of inputs that will now be allowed to be imported duty-free."
Dr. Fletcher notes that there is a cost associated with the concessions since government will forgo customs duties on those imports. "Government has determined that in an effort to make the industry more cost effective and in an effort to increase competitiveness, itís a sacrifice that needs to be made."
The granting of the concessions he says reflects government's commitment and continued support to the banana industry. The concessions were halted following the privatization of the banana industry, and inability on the part of the SLBC to transfer the concessions to the Fertilizer Company -SCIC.
Discussions between the Ministry and SCIC are to get underway shortly.