Contact: Rose Marie Harris
November 12, 1999 - Over two hundred and fifty Yachts will begin arriving in Saint Lucia as they participate in the Atlantic Rally for Cruisers and the organizers of the event, World Cruising Limited have been forced to close their registration doors.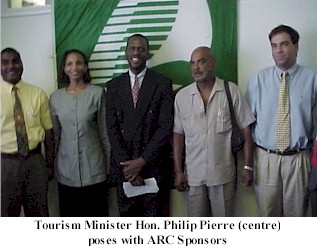 Saint Lucians though will greatly benefit from this year's event, as some two thousand visitors will be on island during the ARC. Accepting financial support for the event, Deputy Director of Tourism,. Maria Fowell says the ARC is not just an event that takes place just over December, its an event which has been able to ensure that Saint Lucia remains top on the yachting map.
Main sponsors for this year are Windward and Leeward Brewery Limited, Cable and Wireless Caribbean Cellular, Shell Antilles Limited and Du Boulay's 'bottling Company.
Related