By Janelle Charles
August 17, 1998 - Today the governments of the four Windward Islands conclude months of negotiations towards arresting and reversing the downward spiral of production in the Banana industry. That is because the final signatures will be placed on the Memorandum of Understanding and Production Recovery Plan. The signatories are the Government of Grenada, the Caribbean Development Bank, the European Union and the Department for International Development. Over the Weekend representatives from the local banana industry affixed their signatures to the document.
The Recovery Plan is an integrated production plan for the Windward Islands banana industry, which has been agreed by all the stakeholders.
The main component of the plan is to maintain grower prices for premium fruit at current levels for the next 18 months, with the intention of stimulating grower and investor confidence. Permanent Secretary in the Minister of Agriculture, Dr. James Fletcher says, "this approach will be complimented by a major grower re-capitalization program to meet the increased need for on farm finance. He indicated that in the longer term increased emphases would be placed on drainage and irrigation.
The recover plan is to be institution - neutral and its implementation is not expected to be affected by any changes that may be made in the institutional re-structuring of the industry.
Prime Minister Dr. Kenny Anthony noted that last weeks signing was a culmination of months of negotiations with the European Union. Dr Anthony says he will be making an official statement on the status of the industry within the coming week. "In the next few days I intend to address St. Lucianís and explain to them precisely where we are going with the banana industry. What is going to happen with privatization, what will happen to the employees and indeed why we have to make the decisions to ensure the viability of the banana industry."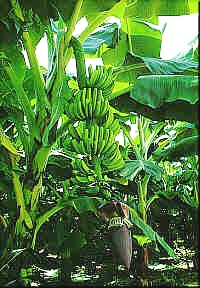 The donor group, WIBDECO / Fyffes Joint Venture, is financing the Banana Recovery Programme along with local grower associations and Windward Islands Governments. Singing of behalf of the Donor was the French Ambassador for the OECS Claude Los Guardi. Los Guardi says, "the Government of donor countries have full confidence that the implementation of this agreement. He believes that it will not only stop the decline of Windward Island production but also allow producers to sustain global competition.
Renewed diplomatic initiatives are to be taken to steer the United States away from its opposition to preferential treatment towards Windward Island bananas. Within the next few weeks St. Luciaís Prime Minister will lead a CARICOM delegation to plead with the U.S Administration to rethink its current position.