Contact: Claudia Monlouis
Friday 18 May 2012 – The Countdown to Expo 2012 has begun. The event slated for May 24th to 26th will be staged at the Union Industrial Estate located in the north of Saint Lucia. The main organizer of the event is the OPSR.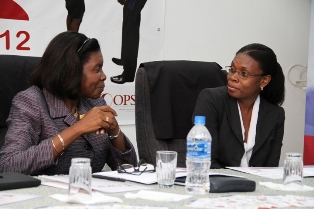 Director of the OPSR Jacqueline Emmanuel says the high level of goods produced on island as well as the high level of service delivery has not received due recognition at home.
"It is this potential we must as an exporting country recognize that we have and we must work together to unleash it. Exporters need strong support at home. They need a good platform from which to launch out into the external market. We can and we must support our exporters; and yes they can succeed in the external arena. In fact we have recognized many successes in our midst and will be showcasing some of them in Expo 2012."
Executive Director of the Saint Lucia Chamber of Commerce Brian Louisy was on hand to give full support to the first initiative that OPSRS has undertaken since the Saint Lucia Export Promotion Agency – TEPA came into effect. The Chamber official noted that it was good to see the National Export Strategy was being given serious promotion.
"I think it is important to have these kinds of events, not just so we can see and know but also because we want to bring in the buyers to see in one compact period the variety and quality of that which we produce and that which is good about Saint Lucia."
The public is reminded that support for Saint Lucian products and services begin at home.
Meantime Minister for Commerce, Business Development, Investment and Consumer Affairs Honourable Emma Hippolyte believes that Expo 2012 will feature an experience of Saint Lucian goods and services and not just an exhibition. She says it will also draw much need notice to the country's trade deficit.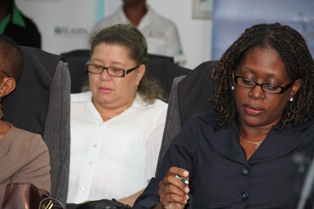 The hosting of EXPO 2012 is an important opportunity to focus national attention on the importance of reducing our trade deficit and for fostering a collaborative approach among the public and private sectors, (viz. consumers and producers) for the development of exports. The thrust to improve our trade performance can be measured by:
(1) An increasing share of world trade in exports of goods and services
(2) A higher rate of growth of exports, and
(3) "Import substitution" - where increased preferences for locally produced products bring about significant change in import demand.
The OPSR is mobilizing a group of local exporters to exhibit. The theme is for EXPO 2012 is "Expect, Experience, Export, the Best of Saint Lucia.'