Contact: Claudia Monlouis
Thursday, May 03, 2012 – In an info-packed session at the Bay Gardens Inn, Monday 30th April, Landscaping, Maintenance and Housekeeping personnel from nine Saint Lucian hotels, increased their knowledge of green waste management practices and of the concepts of improving sustainability through simple stewardship of their work and own environment.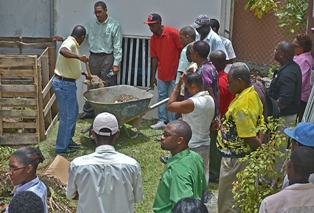 Organized by the Travel Foundation (www.thetravelfoundation.org) a UK based charity that works to help the UK outbound tourism industry and destinations become more sustainable. In a project funded by the Centre for the Development of Enterprise (www.cde.int) and with the collaboration of the Solid Waste Management Authority in Saint Lucia, participants learnt about simple ways to adopt cost saving, environmentally friendly practices with a particular focus on composting.
Composting provides a beneficial way to deal with disposal of landscaping, kitchen, plant and vegetable wastes – turning the organic ingredients into a nutrient rich material that helps improve soils and therefore help reduce use of chemical fertilizers. This further lessens the strain on landfills by reducing the physical quantity of garbage and the production of harmful landfill gasses that occur when vegetable waste decays. It is a great way to create a useful product and protect the environment at the same time.
Participants asked many questions about the practicality of the measures and systems as there was high enthusiasm, but there were also some level of concern about space requirements, cleanliness and possible rodent and pest issues, demands on staff. During the session, it became clear that concerns were well answered and the benefits were well established – the enthusiasm to get started was obvious.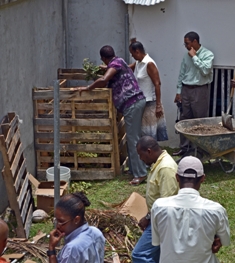 The info-session, was ended with flurry of enthusiastic arrangements of appointments for follow-up sessions on properties around the island and an emphatically convincing demonstration of how very simple it is to set up composting in a surprisingly small space.
Training and implementation continue in the coming weeks across island at the various participating hotels
Contact Finola Prescott, Travel Foundation, 489 3284 or Saint Lucia Solid Waste Management Authority 453 2208