Contact: Shannon Lebourne
Wednesday, May 23, 2012 – The Gros Islet town in the north of the island will soon have a new Provisions Market. Construction of the facility is progressing smoothly and will accommodate sixteen provision food vendors in a secured and spacious location upon completion earmarked for before year end.
The market will also accommodate additional craft vendors and office space for use by the Gros Islet Town Council.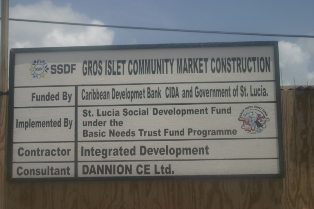 Following a tour of the construction site on Tuesday May 22nd the Deputy Projects Manager at the Saint Lucia Social Development Fund (SSDF) Clive Hippolyte, explained the project is being funded by the Saint Lucia Social Development Fund. "The proposal for this project came to the SSDF for funding under the BNTF programme which is funded by the World Bank and the Government of Saint Lucia, the proposal came from the town council and the District Representative at the time. The project is estimated to cost EC$1.347 million of which the government of Saint Lucia is contributing 20%. We are hoping to complete construction by October based on a six month contract starting January 2012. Upon completion the project will be handed over to the Gros Islet Town Council for its operation".
Families in Gros Islet will also benefit from a new community pre-school, construction of which is scheduled to commence in the next few weeks. Member of Parliament for Gros Islet Honourable Emma Hippolyte says she is eager to see the completion of the project as the present location of the Gros Islet Pre School is inadequate.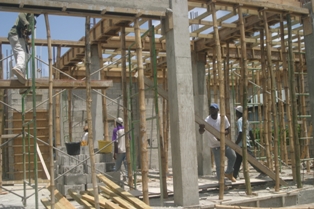 "I dealt with teacher Shanta at the original pre-school in Gros Islet and we are aware of the challenges they have in terms of the facility and the support they receive, Through my women of Gros Islet we can continue to provide significant support to the institution so it's good that we will soon have a facility that will accommodate the pre-school and a nursery so our mothers and single parents in particular can have a place to leave their children and attend work. So this facility will have a positive impact on women and families in general."
Just like the Gros Islet Market, construction of the pre-school and nursery is being financed by the World Bank. The Government of St Lucia is funding the acquisition of private lands required for the project which is expected to be complete by the end of 2012.